-----
Old Chicago Amusement Park
Bolingbrook, IL
-----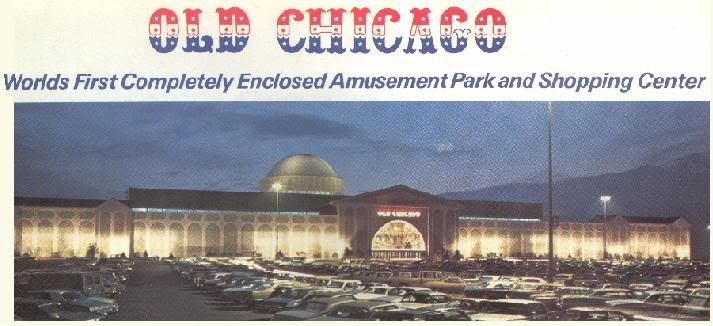 555 S. Bolingbrook Drive, Bolingbrook IL 60439
1975-1981
Old Chicago was a combination shopping mall and indoor amusement park. It was the world's first completely enclosed amusement park, and it was located in the Chicago suburb of Bolingbrook.

Old Chicago consisted of a large square building with a dome in the center. The rides and attractions (the Old Chicago Fairgrounds) were in the center under the dome, and the shopping area surrounded them. When it opened in 1975, part of the grand opening celebration included a tap dancer dancing on the very top of the dome.

Various events took place at Old Chicago during its short history, including holiday fireworks displays and radio station promotional appearances. The Jerry Lewis Muscular Dystrophy Telethon took donations in a glass fishbowl in the parking lot, and sometimes did remote broadcasts from inside the park. Many rock bands and singers appeared at Old Chicago, as well.

Old Chicago seemed like an idea that couldn't fail. In retrospect, however, it's easy to see why it did. The mall consisted solely of small specialty shops and restaurants, and without any large chain stores or anchor stores, it wasn't enough of a shopping mall to attract shoppers. Once the novelty wore off, the building didn't seem to attract repeat visitors, except for those who attended special events or lived relatively nearby. Unlike an outdoor park, which can constantly update and add rides, Old Chicago was confined to the space between its walls, and it got old very quickly. It was also in a somewhat remote location, southwest of the city. The cost of operating the building year-round was probably very high. And I'm sure that when Marriott's (now Six Flags) Great America opened in 1976, it didn't help much either.

Old Chicago never did very well financially, and this culminated in the abrupt closing of the ride area in 1980. The mall, with just a handful of stores, stayed open while efforts were made to find a new owner. Nothing came of it, however, and the entire building closed for good in 1981.

As the next five years passed, the building gradually fell into ruin. Officials were reluctant to demolish it, and everyone hoped that both a new owner and a new use for the building would eventually be found. Several ideas were considered - a gambling casino, a convention center, a retail outlet mall and a movie soundstage were just a few of them. Sadly, none of these ideas panned out, and the building was finally torn down in 1986. Currently, a car auction lot occupies the space, and all that remains is a street named Old Chicago Drive.


This photo appeared in the Chicago Tribune in May 1975. It shows 18-year-old Michelle Mauthe tap-dancing on top of the dome, while a cameraman inside the helicopter films her for an Old Chicago TV commercial.


The main entrance, guarded by two replicas of the famous Art Institute lions.


"Under our Columbian Exposition Arches is the World's first completely enclosed amusement center. Climate controlled year 'round."


An advertisement from 1975.
1974 aerial photos during construction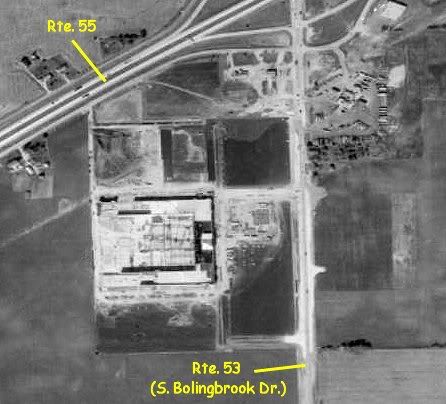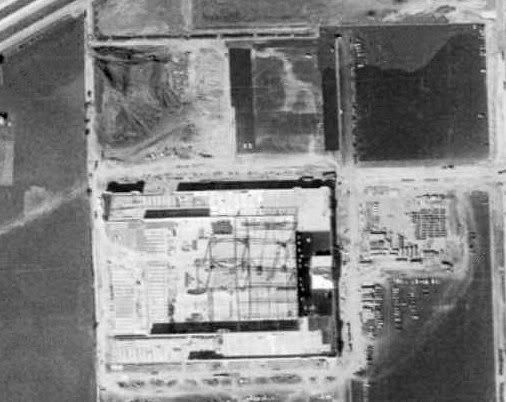 contents
| home page | the shopping mall | the ride area |
| map of the ride area | Old Chicago's last days |
| memories |



return to:
<<< Chicagoland History
---