---






IT'S HERE!
The official Dispensa's Kiddie Kingdom & Castle of Toys website!

dispensaskiddiekingdom.com
or
dispensascastleoftoys.com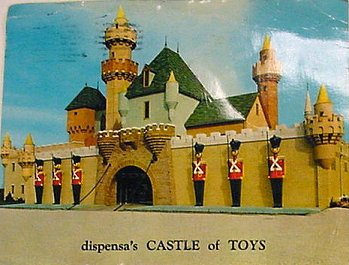 Dispensa's Kiddie Kingdom & Castle of Toys was a combination toy store and kiddie amusement park in the Chicago suburb of Oakbrook Terrace. It was located at the intersection of Routes 83 and 38 (Roosevelt Road). The Dispensa family operated a portable carnival business in the Chicago suburbs before settling down to open the toy store (Dispensa's Castle of Toys) in 1967. The kiddie park (Kiddie Kingdom) followed in 1975.


The Castle of Toys was a toy store disguised as an eight-story Bavarian castle, complete with bright colors and storybook turrets.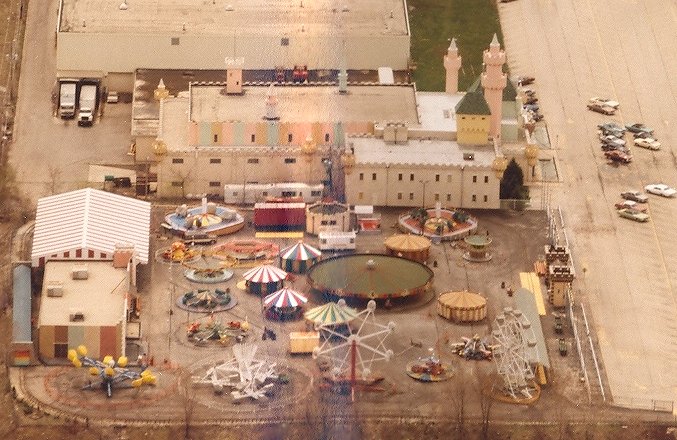 In 1975, the Dispensa family opened a small amusement area next to the toy store. The Kiddie Kingdom featured scaled-down rides designed for children under 12 years old. "Kiddie parks" were a new innovation during the baby-boom years of the 1950s and 1960s, and remained popular into the 1970s.
1974 aerial view, showing the toy store with the amusement area under construction






Exciting rides, to make you yell and holler....




....any ride a quarter, six for a dollar!

(click on image to see full-size version)



The Kiddie Kingdom had, among other things, an antique German carousel and a miniature train that circled the five-acre grounds








The park was in operation until 1984. At that time, the property was sold and the rides and attractions were auctioned off by Norton Auctioneers of Michigan Inc.



The property was developed by the firm of Miglin-Beitler, and is now the home of the Oakbrook Terrace Tower. Designed by architect Helmut Jahn, the Tower reaches a height of 31 stories, making it the tallest building in Illinois outside of Chicago. The only thing remaining from the Dispensa empire is a street leading to the Oakbrook Terrace Tower, which the developers kindly named "Castle Drive."

2007 aerial view, showing the Oakbrook Terrace Tower
<<< return to Chicagoland History
---