Adventureland was a small amusement park enjoyed by Chicagoland kids in the 1960s and 1970s. It was located at the intersection of Medinah Road and Lake Street in the Chicago suburb of Addison.

At one time, America had plenty of these local amusement parks. Along with Kiddieland, Santa's Village and Dispensa's Kiddie Kingdom, families attended Adventureland in the years before Marriott's (Six Flags) Great America opened in 1976.

Adventureland was one of those parks that was left behind in the rush to build bigger and better theme parks.


---


Before it was an amusement park, the land was owned by Paul Werner and was known as Paul's Grove. It consisted of 24 acres, a restaurant and dance pavilion. Between 1952 and 1958, the Grove was owned by John and Marie Spiezio.

In 1958, the land was purchased by Richard Barrie. He added kiddie rides, live storybook characters and fairytale buildings. Paul's Grove became Storybook Park, and was geared to families with young children.

After some financial problems, Barrie sold the park to Durell Everding in 1961. Everding renamed it Adventureland and expanded the focus of the park to include older kids, teens and young adults. The Storybook Park structures remained and the kiddie rides were grouped together in a section known as the Kiddie Korral. At the main gate, visitors were greeted by large cowboy, Indian and pirate statues.

In the late 1960s and 1970s, the park held dances and featured a house band playing in the evenings. Local rock groups, such as the Cryan Shames and Aliotta, Haynes & Jeremiah, also appeared there. In the mid 1970s, a disco opened on the site, complete with a certified disco dance instructor.

In 1967, Adventureland became the largest amusement park in Illinois, following the closure of the larger Riverview Park. It would retain this title until Great America opened in 1976.

In the 1970s, the park was purchased by Medinah Investors. Groups of inner-city children were bused to the park as part of a Chicago summer program. This, along with a general increase in minority attendance, caused racial problems at the park to escalate.

Adventureland closed in 1977. It's possible that several factors were responsible for the closure, including racial tensions and competition from larger parks like Great America.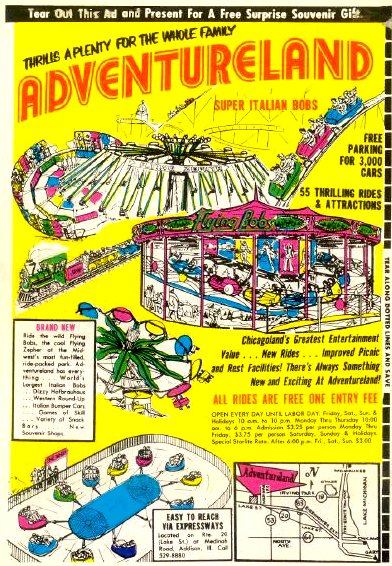 more photos

Storybook Park
Bloomingdale Public Library Collection


---
attractions
rides
Scrambler
Italian Bobs
Torpedo Tubs
Western Round-Up
Italian Bumper Cars
The Whip
Octopus
Caterpillar
Ferris Wheel
Fighter Planes
Paratroopers
Century Flyer
Rock-o-Planes
Super Italian Bobs
Tilt-a-Whirl
Super Himalaja
Roll-o-Plane
Yo-Yo Swings
Flying Bobs
Go-Carts
Flying Zepher
Carousel
Wilderness Canoe Trip
Covered Wagon
kiddie rides
Alligator Boats
Flying Swans
Fishing Boat Ride
Helicopters
Whale Paddle Boats
Cars
Motorcycles

storybook park
Cinderella's Coach
Circus Express
Candy Cane Train
Prince Charming's Castle
Doll House
Firehouse
Humpty Dumpty
Lollipop Train
Old Woman In A Shoe
Peter Peter Pumpkin Eater
Windy Wilbur
Hungry Tiger

other attractions
Hofbrauhaus Fun House
Petting Zoo
Giant Slide
Tree House Slide
Picnic Area
Snack Bars
Souvenirs
Game Arcades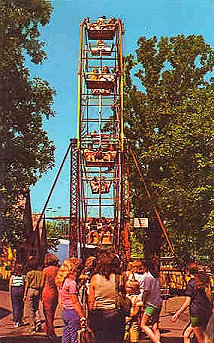 Ferris Wheel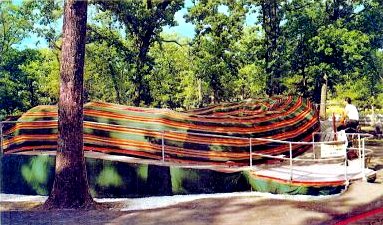 Caterpillar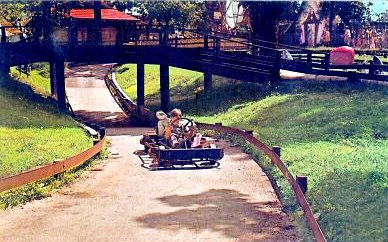 Go-Carts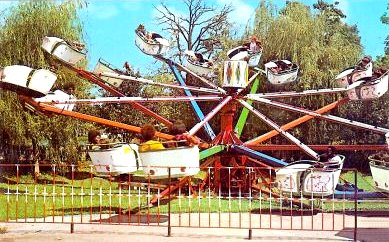 Octopus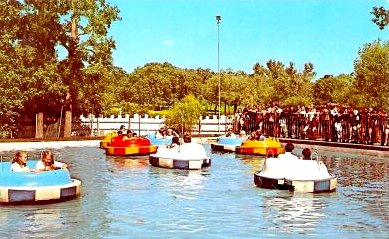 Torpedo Tubs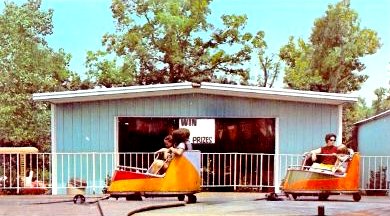 The Whip


---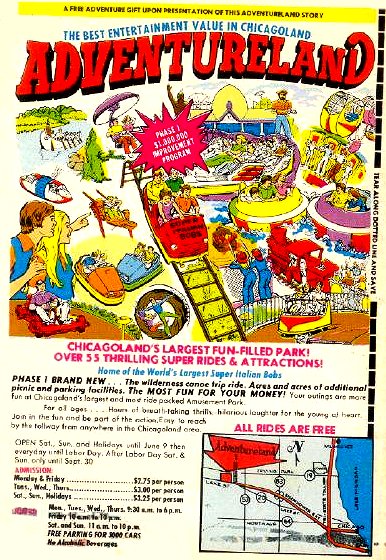 The color ads were usually on the back cover of the TV listings from the Sunday paper. If you brought an ad to the park, you could get a free gift or box of popcorn.









The following full-page ad appeared in the Chicago Tribune in May 1975:

THE GREAT ADVENTURE!
Just when you think you've seen it all,
something NEW is added to make a better adventure.

"Where Friendly Chicagoland Meets"

BRAND NEW Scrambler~~World's Largest Italian Bobs~~Dizzy Hofbrauhaus
Crash 'n Splash Torpedo Tubs~~Western Round-Up~~Italian Bumper Cars
Games Of Skill~~Variety Of Snack Bars~~New Souvenir Shops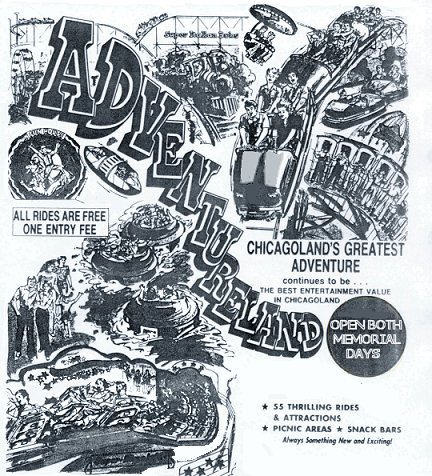 (Note the black circle, which says the park will be open on both Memorial Days. In 1971, the federal government moved Memorial Day to the last Monday in May. For several years, many states continued to celebrate it on its traditional date, May 30. This resulted in dual holidays.)


Located on Rt. 20 (Lake St.) at Medinah Road,
Addison, IL
~Free Parking For 3,000 Cars~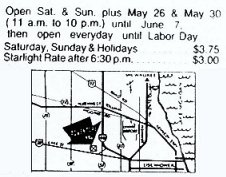 Check out those prices!


---
Aerial photos are a fascinating way to study how land changes over time. The following photos aren't the best quality, but they do a pretty good job of telling the park's story, before and after closure.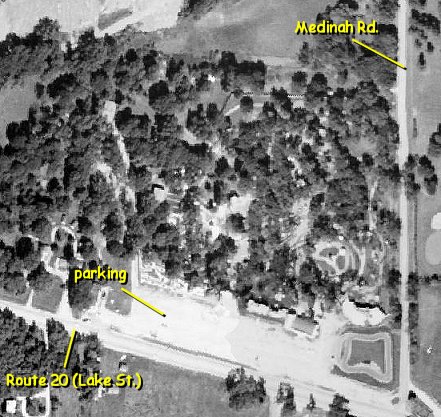 1961 aerial photo





1974 aerial photo,
showing expanded parking and more attractions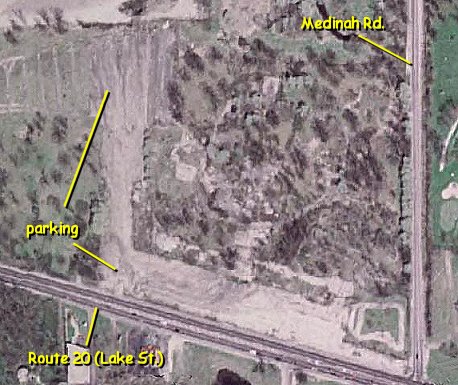 1988 aerial photo,
11 years after closure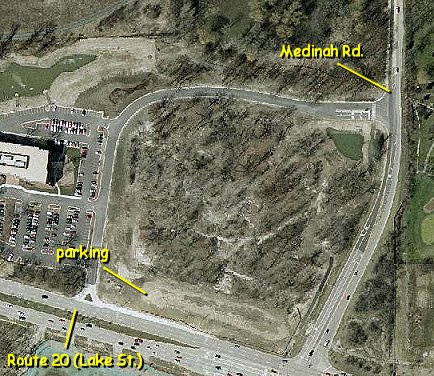 2002 aerial photo,
showing the remains of pathways and sidewalks.
Medinah Road has been diverted through the property.





return to:
<<< Chicagoland History
---